New Studios Usher In Two New Web Series
GlobeRadio.org and Globe TV made their debuts on February 11 with a launch party where alumni, faculty, students, and community members celebrated the new site, look and studio.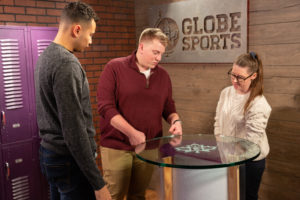 The launch showcased the Globe's new studio where Kyle Hufford, assistant professor of communication, Jason Samuel, Globe general manager and The Globe leadership staff dedicated the last three months to remodeling the studio and preparing for the unveiling of Globe TV.
Globe TV is a new addition for the Goshen audience, as it will add video content through two platforms: Globe News and Globe Sports. Globe News will offer broader news concerning the Goshen community and Globe Sports will add more content to its award-winning Goshen College Maple Leaf Athletics coverage.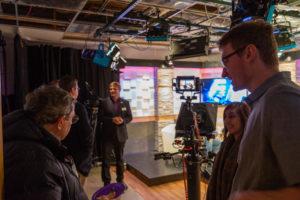 During the event students and faculty showed off the studio's two new sets where "The Globe News Report", a monthly news magazine show, and "The Globe Sports Corner", a weekly sports show focusing on Goshen College athletics, will be filmed. In the future the studio will also host national and local musical acts for in studio live performances.
Samuel, general manager of The Globe, has worked for the station as both a student and a manager. Since Samuel began working as general manager of the Globe in 2003, the station has gone through many shifts and changes.
Samuel said that he is excited to see what is in store for the future of Globe Media.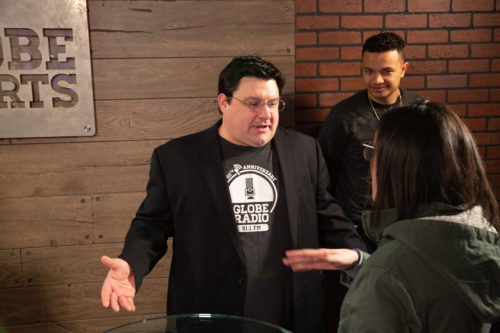 "Our new website is the birth of convergent media at Goshen College," Samuel said. "Through GlobeRadio.org, our students will tell stories on several different platforms using their creativity to choose the best medium for the story. Be it print, video, or audio."
The new studio has been broken in as the Globe has already produced multiple episodes for Globe News and Globe Sports. All episodes can be found on the Globe's social medias as well as its revamped site, GlobeRadio.org, where you can stay up to date with all of the Globe's music, news, and sports features.